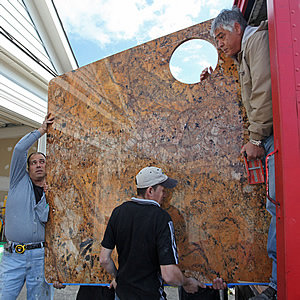 *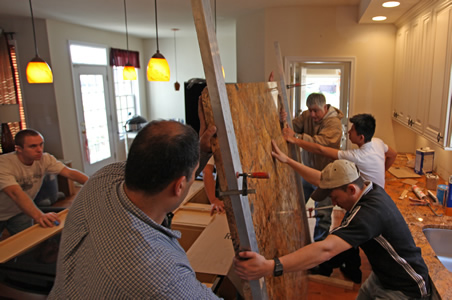 Choosing products for Kitchen your or Bathroom Remodeling project
In a kitchen or bathroom remodeling project I feel it best to choose:
(1) Countertop color - few choices: Granite, engineered stone (Silestone), Cultured marble,Formica.
(2) Cabinet color - few choices: light, medium or dark wood color, painted cabinets
(3) Tile color - Lots of choices:
(4) Wall color - Infinite choices: Darker colors are over come with good lighting.
This way you are choosing the materials with the least possible choices first, but also keeping in mind the general color scheme for your other materials. Granite and cabinet colors are fairly finite. There are many selections for tile color and infinite selections for wall color.
Granite Kitchen and Bathroom Countertops
Daniels Kitchen and Bathroom Remodeling offers quality granite kitchen countertops & granite bathroom counters with under mount sinks, tiled back splashes, many edge details and your choice of a warehouse full of granite slabs.
Contact Mark Daniels for an in home estimate on granite kitchen or bathroom countertops
We have worked with our trusted associate Majid for over 3 years. Majid utilizes 15 years experience of granite countertop fabrication and installation to create beautiful granite countertops for your bathroom or kitchen. Being a smaller company enables Majid to spend the extra time making sure your granite kitchen countertops come out right.
Look for Marble Systems Granite Slabs in Fairfax to supply the raw granite slabs. They are located at 2737 Dorr Ave. Fairfax Va. 22031 . Hours M-F 8:30-5, Sat 9-2. Make an appointment call Phone 703-204-1818, Fax 703-204-1888. Tell them you are working with Daniels Kitchen and Bath (Majid)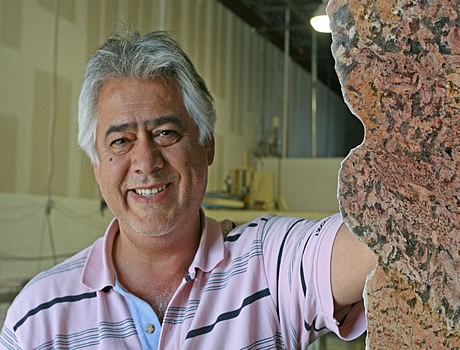 *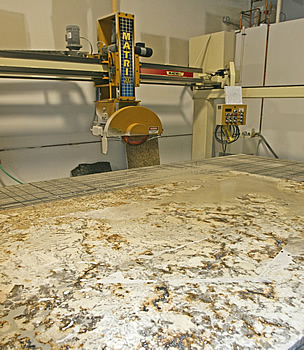 Majid fabricates custom kitchen and bathroom countertops from a very wide selection of granites and marbles. Precisely calibrated granite table saw he uses to create your beautiful kitchen granite countertops. Many edge details are available from standard eased and polished to double OG's.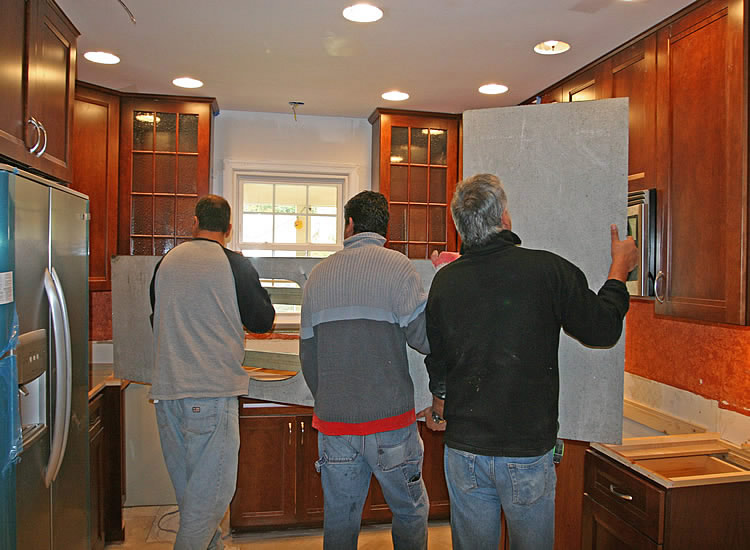 Uba tuba 600lb granite countertop in this Fairfax Station kitchen remodeling.
Every slab of granite is different and has its own character, Granites have different names and the color variations vary widely. That's why it is important to actually look at granite slabs before making your choice. We offer access to slab granite warehouse locations in the Northern Virginia, DC and Maryland areas to make it easy for you to make a choice.
Granite Kitchen Remodeling Pictures
The pictures below are granites called Golden Crystal and also Arabian Sand with OG edge. These are among my favorite selections for a kitchen countertops because they are light in color, have lots of warm character and will not show a "missed breadcrumb". I would select a medium dark brown cabinetry to pull the browns in the granite. The jury is still out on the backsplash. I prefer a full backsplash from the countertop and up. Texture is nice, with some sparkly glass tiles set off by the under counter lights?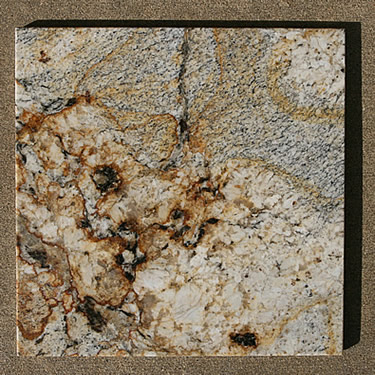 +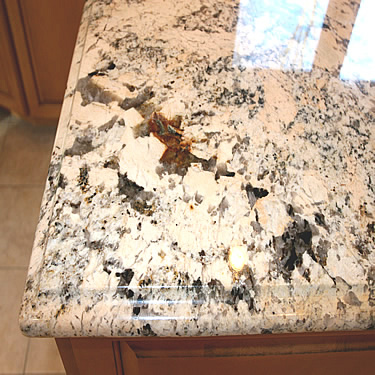 Fairfax Cook's Kitchen
This is a picture with the design plans for a large two sink kitchen. The photo of my kitchen below shows cherry cabinets, golden fantasy granite countertops, two undermount sinks, pendant lights, recessed can lights, under counter lights, beaded ceiling, bull nose corner bead, and oak sanded hardwood floors stained to match the cabinets. I have taken into consideration all aspects including lighting, food and utensil storage, prep triangle separation from cleanup area, seating to promote interaction with family and efficiency. The kitchen connects directly to eating nook area and family room.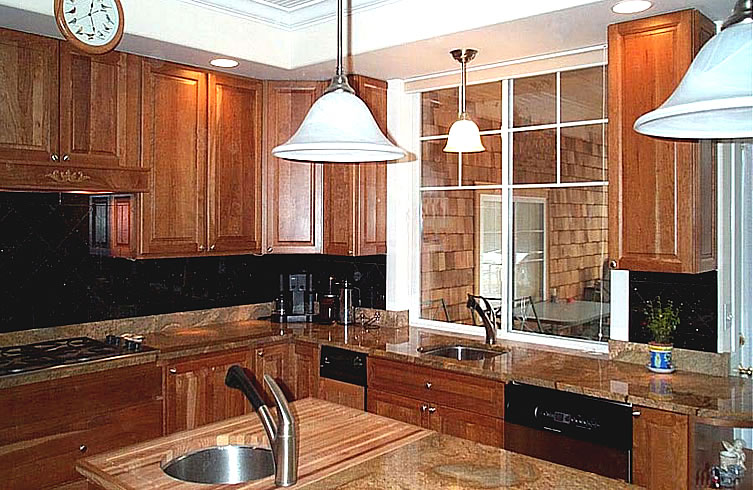 Custom fabricated butcher block countertop at prep sink, both sinks are single bowl with disposers. Moen single handle kitchen faucets. Notice countertop planes into bottom of window creating more counter and window area. Dishwasher to right of clean up sink and compactor to left. Always a susan or ez-reach cabinet in a corner if possible.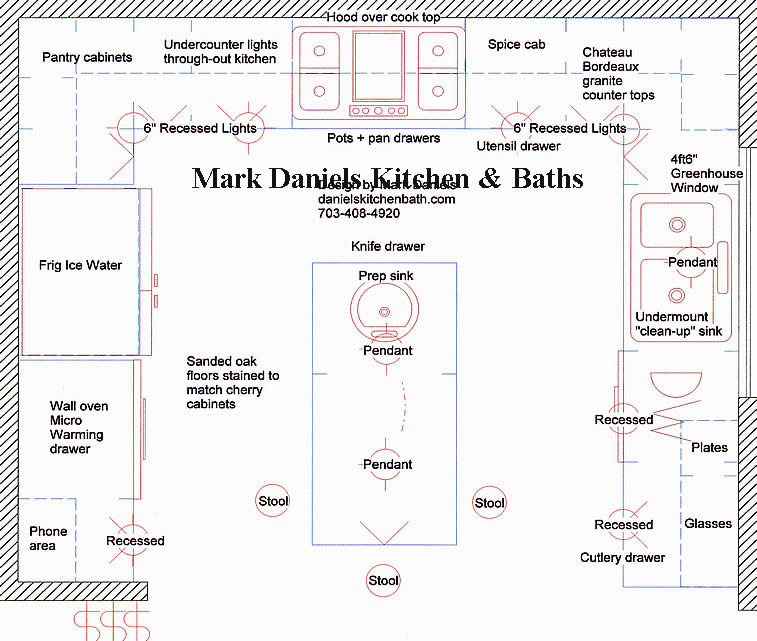 The pictured kitchen floor plan above shows in my opinion an optimum kitchen design. Great task lighting, separation of food prep triangle and cleanup area, area for family to sit and talk to cook in a luxury kitchen. As for flooring in a kitchen I prefer solid sanded hardwood, possibly with an inset accent border or a custom inlaid design. Wood floors feel warmer and softer than ceramic floors. Though ceramic floors with under floor heat is a very nice option. A door way could be added to the right of the frig.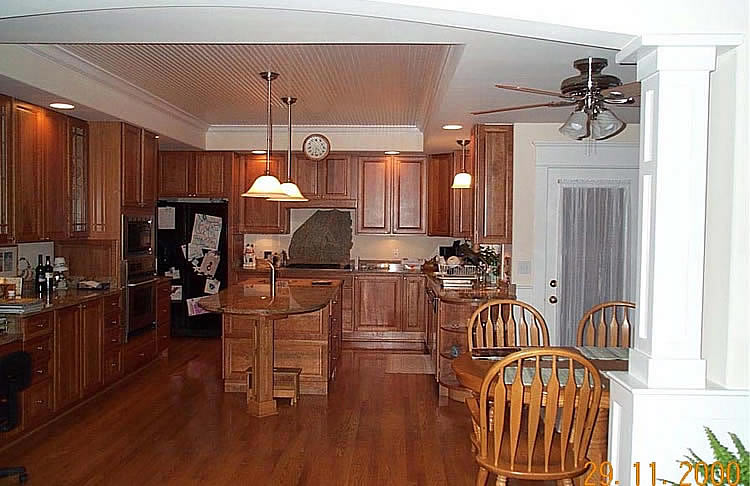 Notice the rounded granite island end (stools missing), mirrors the rounded counter on right, pendant light fixtures, recessed lights are over the counters, back splashes were later granite tiled. Nook area to right projects to rear of home facing south (sun). Arched room divider with bull nose corner bead and custom craftsman columns separates the family room from the kitchen. Custom fabricated 4" door casing with 8" header piece beaded below and crowned above.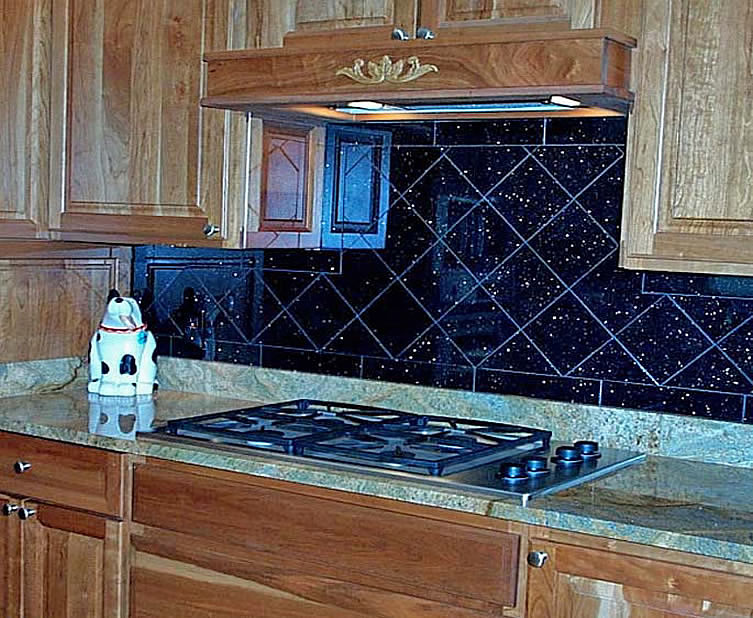 Black Galaxy granite tile backsplash with my signature "diagonal bordered" tile layout. Notice countertop edge continues through, in a cook top installation. Dacor stainless 36"gas cook top.. The cabinet below is a 3 drawer pots and pans unit. The top drawer contains all larger cooking utensils. Base cabinet to the right has swing up shelf for large mixer. Spices in right upper cabinet. See the matching black outlets?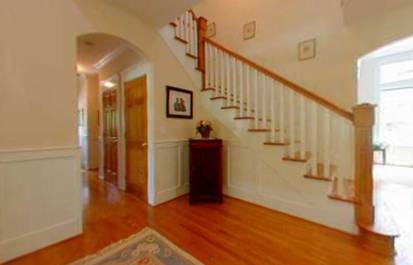 Also in this home. Notice; open solid oak stair treads, custom newel posts, 2x2 balusters, rounded first step, craftsman wainscoting, bull nose archways and stained oak doors with craftsman style casing.
Kitchen Design Notes

A kitchen should be as functional, efficient and comfortable as possible. A lot of time is spent in the kitchen, when people entertain they almost always congregate in the kitchen area. Kitchen design should try to minimize distances between the fridge/sink/stove "triangle". My preference is for a prep triangle arrangement with a cleanup sink (dual sinks) dishwasher (D/W) on right or left of sink. Plates and glasses above D/W.
A nice setup in a home is where the kitchen and family room are next to each other. The cook maybe be able to talk to others in the family while they work. This could include watching the TV. An arch with columns provides a divider between the rooms.

Building, Electrical and plumbing codes considered. Walkway widths. GFI (ground fault interrupter outlets), appliance circuits, venting hood fans to the outside.

My personal preference for sinks are stainless steel. Preferably under mounted .They are not as pretty as cast iron glazed sinks. But the glazing on cast iron can scratch very easily with metal pans.
Remodeled kitchen pendant lights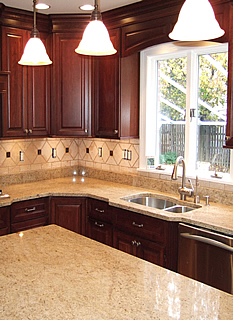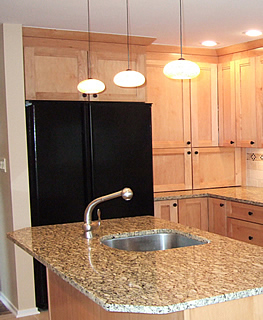 Pendants on a dimmer can create a cozy feel when they are the only lights on in the kitchen. Place pendants over islands, peninsulas or sink (set above standing eye level height). Normally 2 larger or 3 smaller pendants on a 5 foot island. I also recommend under counter low voltage lighting coupled with strategically placed recessed cans. It's nice to see what you're doing!
Kitchen greenhouse window at counter height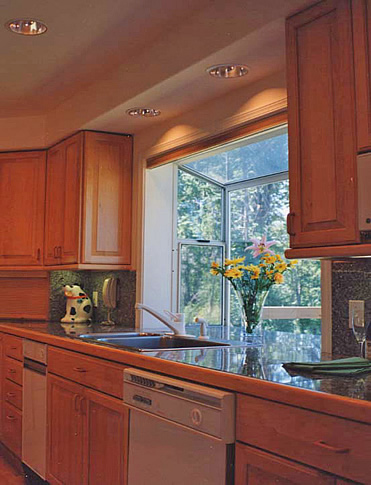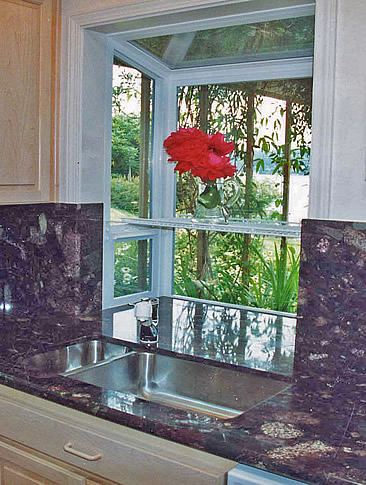 Counter flows into the bottom of the window. An optical addition of floor space that makes the room feel larger. An abundance of extra light with extra counter area for plants or decorations.
A good test for any countertop or hard surface material you are considering is what I call the "key" test. When shopping at your local "big box" take a sample of that granite, Corian, quartz crystal composites(Silestone), marble or plastic laminate (Formica) and try to scratch the sample with your car keys. You will probably find that corian and marble may scratch easily with darker colors really showing the scratches. As far as staining goes on surfaces, granite is porous and can stain in the right situation. Softer marbles can have their finishes ruined with toothpaste over night. Corian seems not to stain easily but can "yellow" over time. Silestone type products seem to be a good synthetic material and time will tell as I have not tore one out yet to remodel. Personally I like granite tops with a natural character and "movement" in their look. A perfect surface like Black Absolute granite will show a grain of salt on your counter. I like a more casual than formal, comfortable more than high tech feel in a kitchen, but that's my taste. I recommend granite or Silestone for moderate and top of the line kitchen counter tops.

Contact Mark Daniels for Kitchen Remodeling