for more combination savings and other items!
Be sure to scroll all the way down this page for installation tips and pictures.


| | | |
| --- | --- | --- |
| | | * |
| Gloss White Shampoo Recessed | Matte White Shampoo Soap | Shampoo Soap ----------Corner Caddy |
| | | |
| Gloss Almond Shampoo Soap | Matte Almond Shampoo Soap | Matte Parchment Shampoo Soap |
Colors are approximate, as all monitors vary,
Shipping duties and taxes to Canada are the receipients responsibilty. 20 % restocking fee on items returned within 30days of purchase in unbroken, unused condition.
Rough opening cutouts for niches:
Large recessed niches- 11 5/8" x 11 5/8" x 3 7/8" into wall. Overall 12 3/4" x 12 3/4". Interior opening approx 11" x 11"
2 compartment niche- 5 3/4" x 13 1/2" x 2 3/4" into wall. Overall 7 1/8" x 15". Interior opening 5 " x9 3/4" and soap opening 5" x 3".

Soap only niche - 5 5/8" x 4" x 2 3/4" deep (into wall). Overall 6 1/4" x 4 3/4". Interior opening 5 " x 3 1/2" x 2 5/8".
Tech Support Questions
EST 8-5:00 M-F, 10-2:00 SatSun
Mark 703 408 4920
________________________________________________________________________________________________________________
Shower Shampoo niche is installed after the tile is grouted and sealed!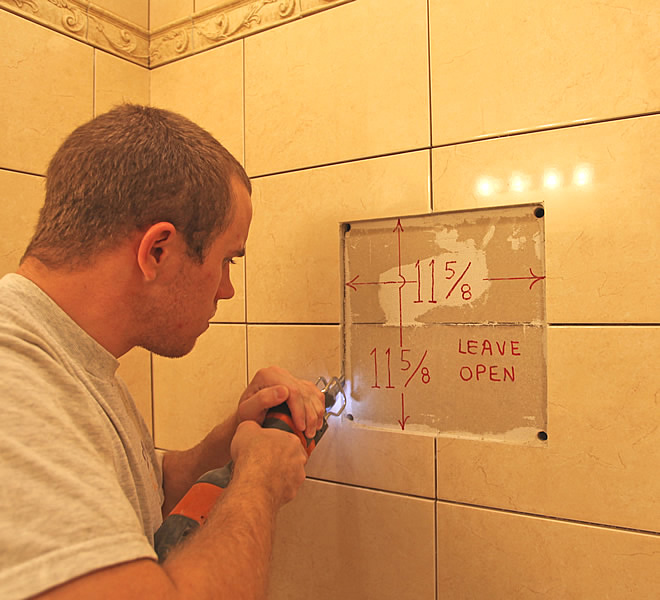 Niche installation location layed out dead center of four tiles for symmetry. Final location for the porcelain niche was established After the tile was brought up to the approximate height. Shampoo soap dish is installed after the tile is grouted and sealed.
_____________________________________________________________________________________________________________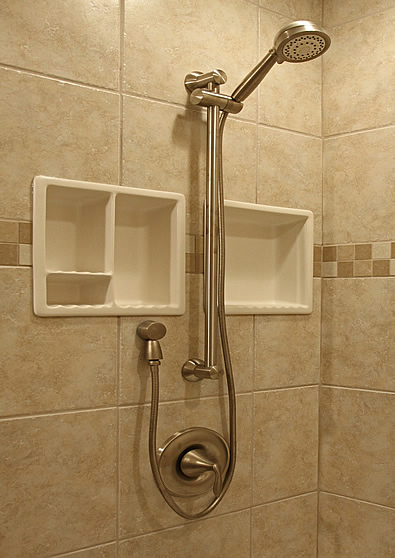 *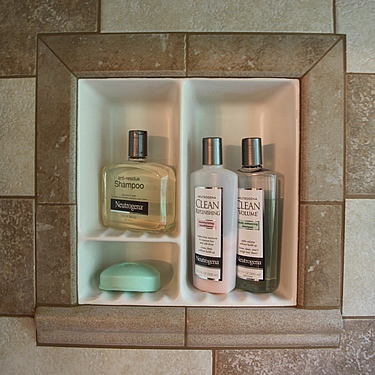 *
I recommend two dishes, one multi compartment and one single compartment on each side of the shower head wall. Order before your project starts! Install dish / niches after tile is grouted and sealed!
One piece sanitary recessed combination shampoo soap and toiletry holder shelf. 12 inches x 12 x 3.5 inches of recessed toiletry storage. Made of high quality porcelain, will last a life time. Easy installation, 1/2 -1/3 the cost of a custom niche shelf. No grout lines, nooks, crannies and easy to clean . Bar soap doesn't slide out and no worry over waterproofing with a contractor installed custom shelf install.
______________________________________________________________________________________
Wall niche Framing
*
Framing in common wall between two bathrooms, we are remodeling for dual niches in the master shower side.
_______________________________________________________________________________________
Recent bathroom remodel with dual recessed shampoo soap dishes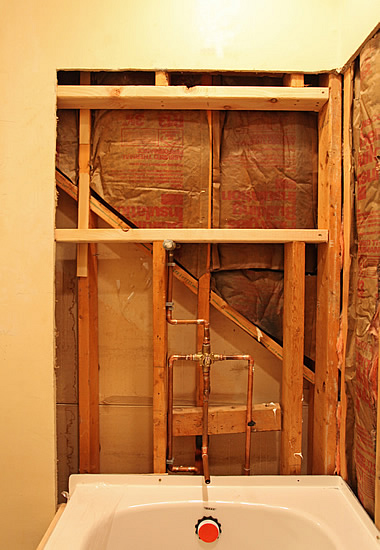 *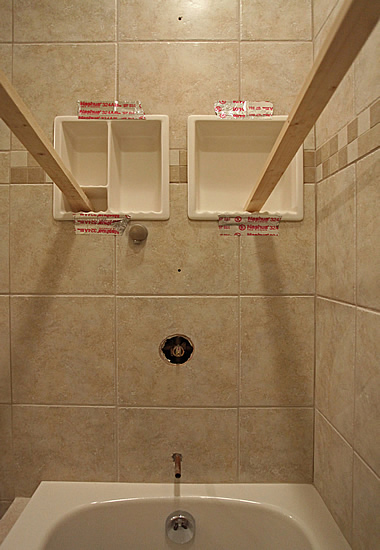 *
Framed in non bearing wall, open area larger than needed, to hit layout. Symmetrical placement of Moen Eva shower valve, shower rod and handheld. We layed out for the niches to be centered on the accent strip at approximately eye level.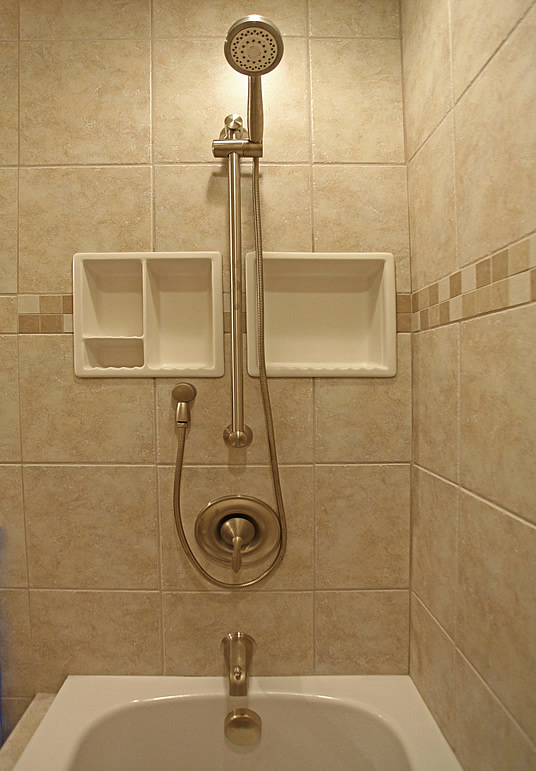 Tub is white and recessed shampoo soap are matte white.
No guaranty on color match as all monitors display colors differently.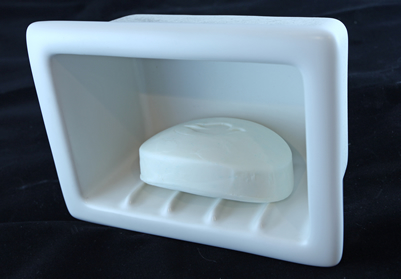 *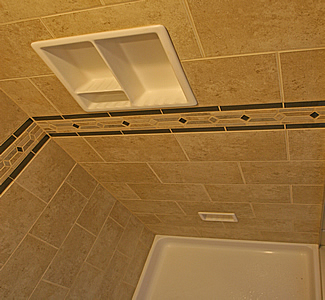 Also available is a recessed soap dish that can also be used as a foot rest for shaving legs in a shower. Set at 18" above floor.
Rough opening cutouts for niches:
Large recessed niches- 11 5/8" x 11 5/8" x 3 7/8" into wall. Overall 12 3/4" x 12 3/4". Interior opening approx 11" x 11"
2 compartment niche- 5 3/4" x 13 1/2" x 2 3/4" into wall. Overall 7 1/8" x 15". Interior opening 5 " x9 3/4" and soap opening 5" x 3".

Soap only niche - 5 5/8" x 4" x 2 3/4" deep (into wall). Overall 6 1/4" x 4 3/4". Interior opening 5 " x 3 1/2" x 2 5/8".
_______________________________________________________________________________________
Location of your recessed shampoo soap shelf
Out of direct and indirect water spray within easy reach. The best place is right in front of you, eye level on either side of the shower head. Because the units are high, water doesn't bounce off the body, back into the bar soap areas. Normally there is only the shower head water line in the middle.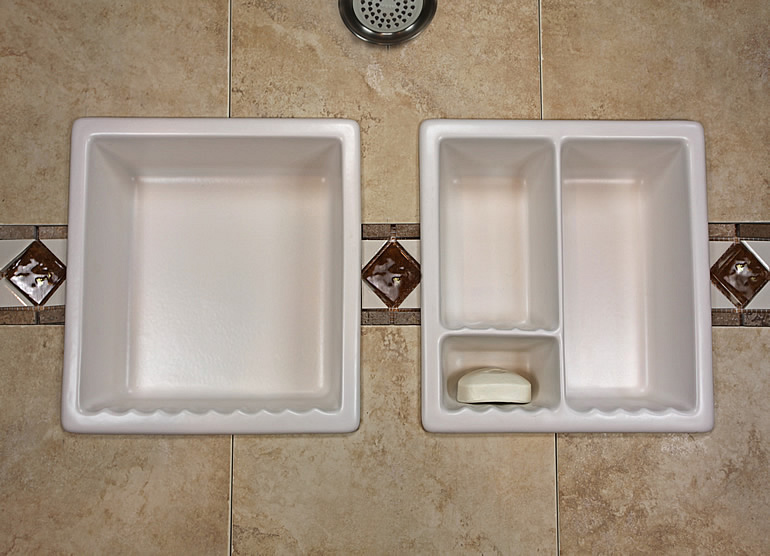 Both ceramic niches and glass tile accent strip set at eye level on shower head wall, the perfect location for toiletry niches. Matte White shown.
Installation
Before concrete boarding your shower walls note stud locations and where you intend to place the niche. Concrete board and lay tile to height of bottom of niche, then cut out 11 5/8 x 11 5/8 opening with sawzall, finish tiling. This way you cut the hole exactly where you want it.
Pictures of installation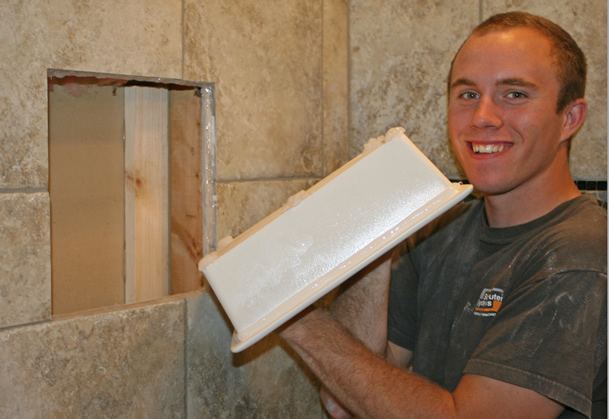 *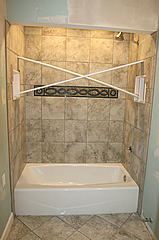 Notice 1x3 siliconed to back wall, blobs on back of shelf and beads of silicone both around the inside of the opening and on the shelf itself. The trick is to have the blobs on the back just touch the back boards and not to have a lot of oozing out where the unit touches the tile. Place your jam stick checking for level, couple pieces of tape and carefully silicone the edge now or the next day.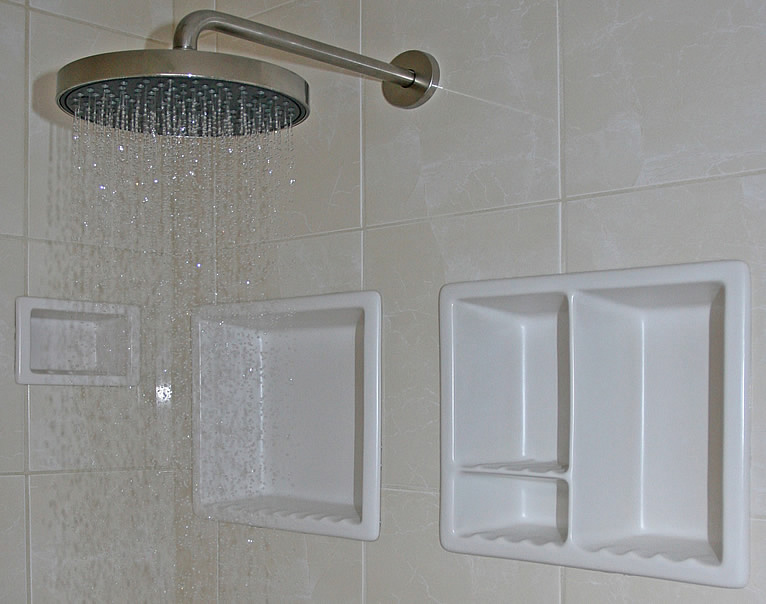 Large ceramic one piece recessed shampoo soap shelf for your bathroom shower area, sanitary and easy install. Surface mounted.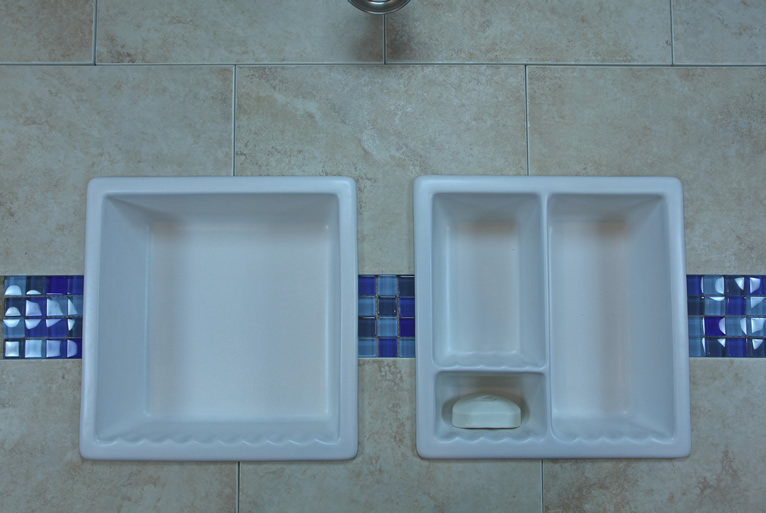 Both the ceramic shelves and glass tile accent strip set at eye level on bathroom shower head wall, the perfect location for toiletry storage.
Framing non bearing shower head wall for dual ceramic shampoo soap niches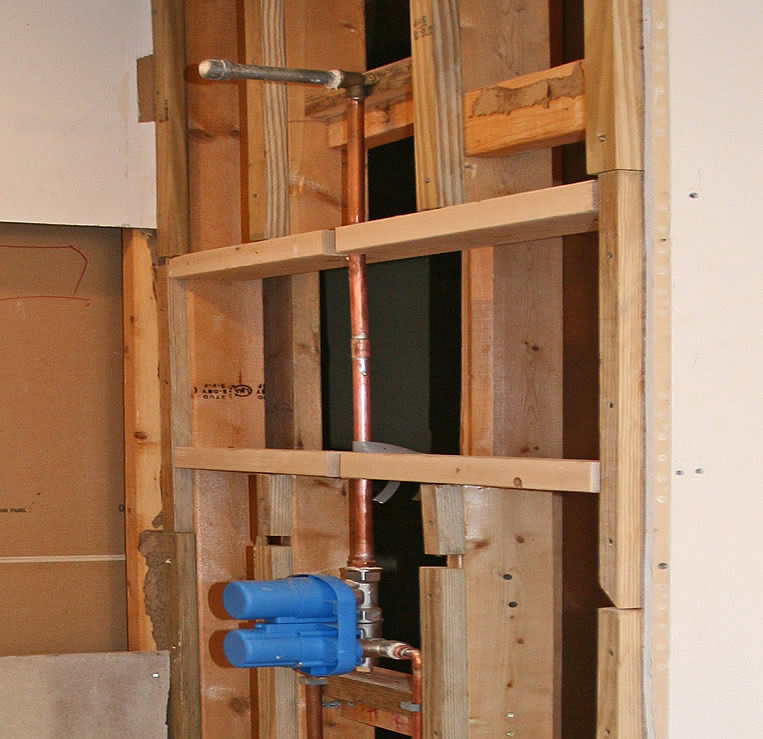 Its best to make opening larger than you need and also to know how your tile layout will hit your niches.
Moving the shower head line for symmetrical installation of one piece ceramic shampoo niche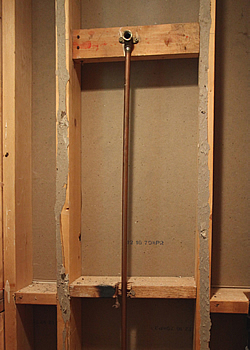 *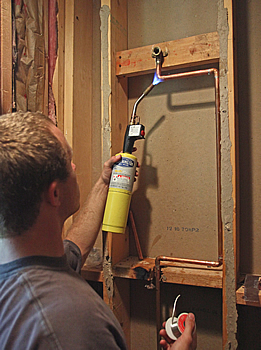 *
Evan Daniels cuts shower head water line to offset for one piece shampoo niche. This way we can get exactly a symmetrical location for the niche below the shower head at eye level.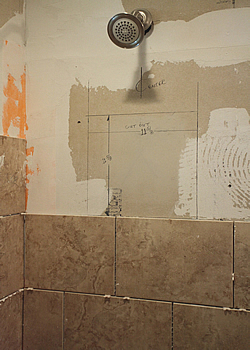 *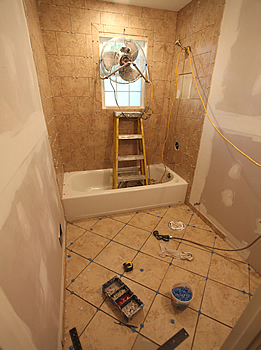 *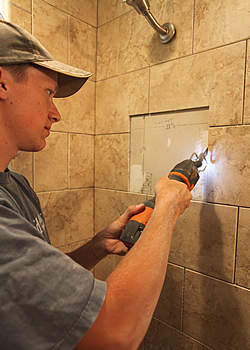 Layed out for soap shampoo niche to miss pipe,studs and hit center line of shower head. Daryl Davis cuts carefully with sawzall or diamond 4" grinder, back up with vacuum for dust control or use a fan in window.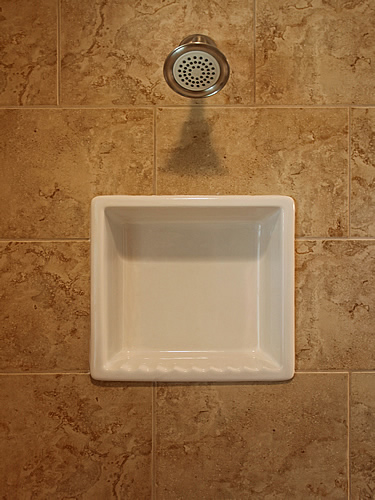 *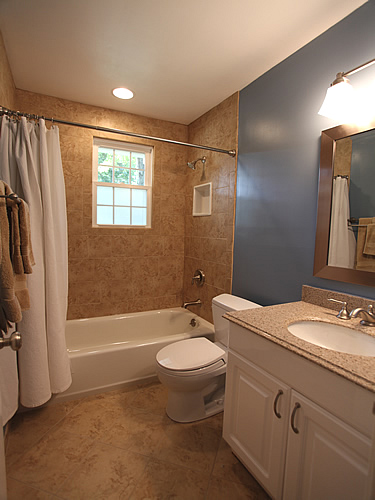 Finished centered shower shampoo niche at eye level. The finished bathroom remodel.
Special Installations of Recessed Shampoo / Soap
Inset dish into backer board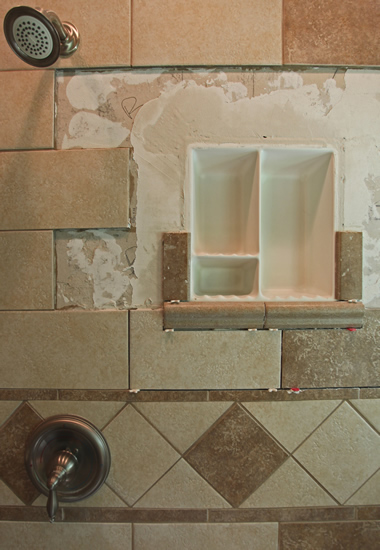 *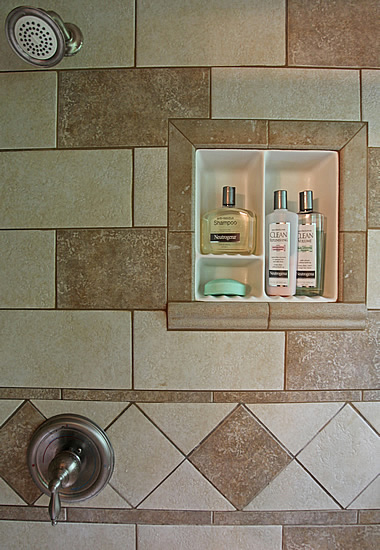 This was a retrofit job two years after the tile was up. We flushed the front flange of the ceramic niche with the front of the backer board, used chair rail and bull nose tile to picture frame the recessed dish in. Recessed mounted with bull nose overlay.
Shampoo niche flush with front of tile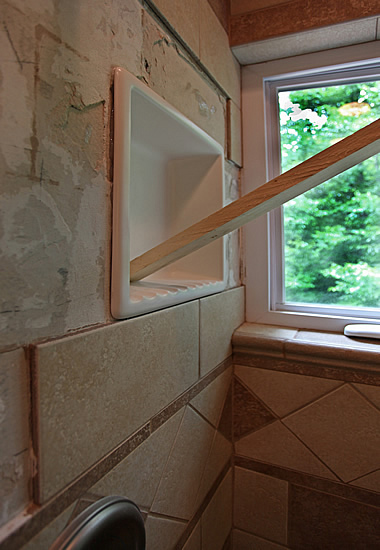 *
Ceramic shampoo shelf siliconed directly to backer board, then tile to the edge for the flush look. Flush mounted installation.
Difficulties of custom built on site niches
Waterproofing and Hitting the layout
If a custom niche is not waterproof, rot will occur and ants or termites will appear. A custom niche should hit an even increment of wall tile to minimize the number of tiles. Smaller tile can make this very difficult even for an experienced contractor. Pictured below is a niche I made using 4 bull nose and one tile on back of a " dead on" layout. A total of 5 pieces and 5 lineal feet of grout on right picture. Grout is not sanitary, as you don't see tubs, toilets or sinks made of tile with grout.
Your contractor must hit layout . The one piece ceramic shelf above gets around these issues..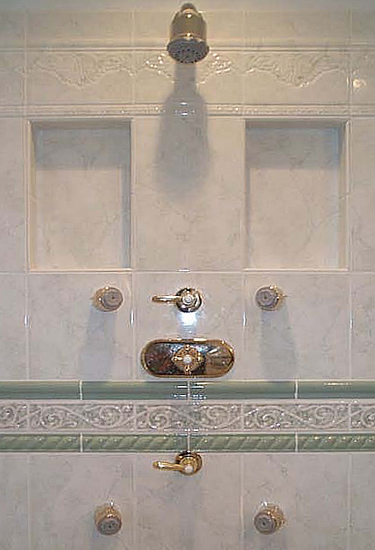 *
Missing the layout
Pictured below are two examples of missing the layout and poor workmanship after realizing they are in over their head in doing a custom niche.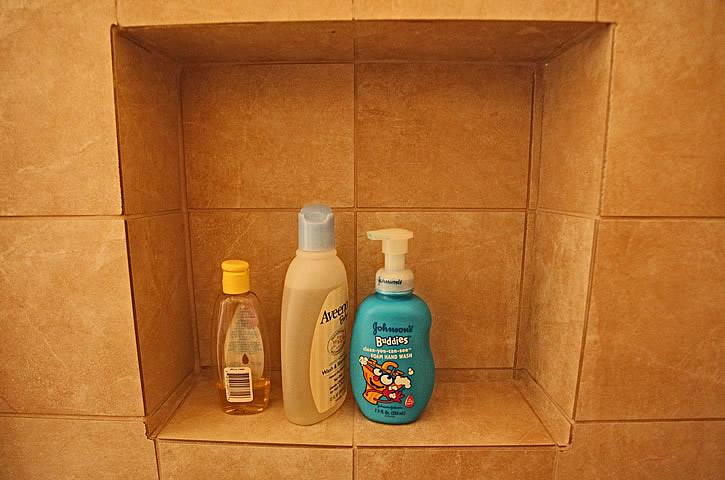 If this niche were to work out to be 4 exact wall tiles there wouldn't be all the little sliver pieces. It may be waterproof, but maybe not.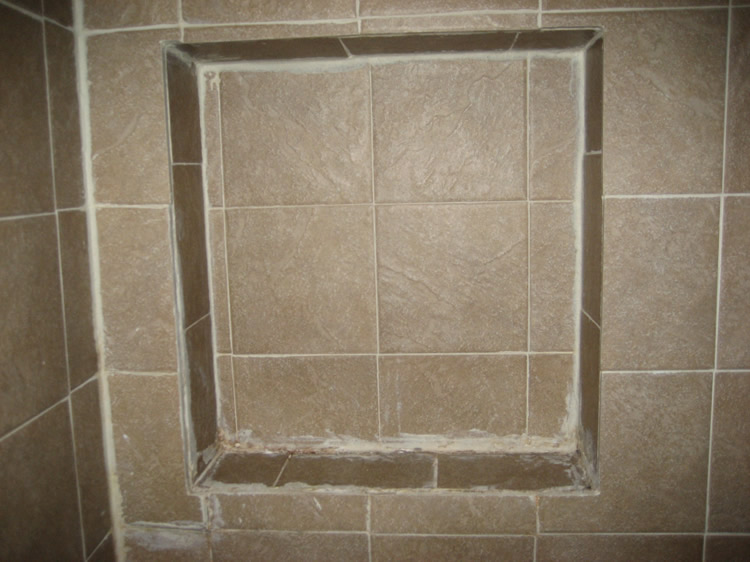 A customer sent me this beauty, they wanted to know if my ceramic shelf would cover it all, unfortunately not. Some contractors also silicone caulk the corners.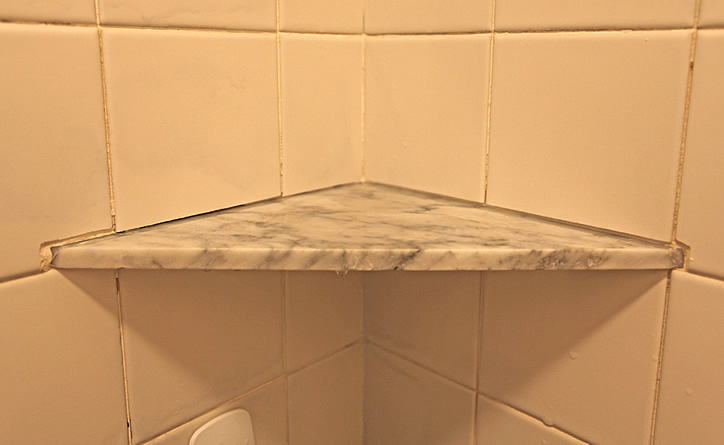 Marble shower corner caddy
Marble sills and slippery bar soap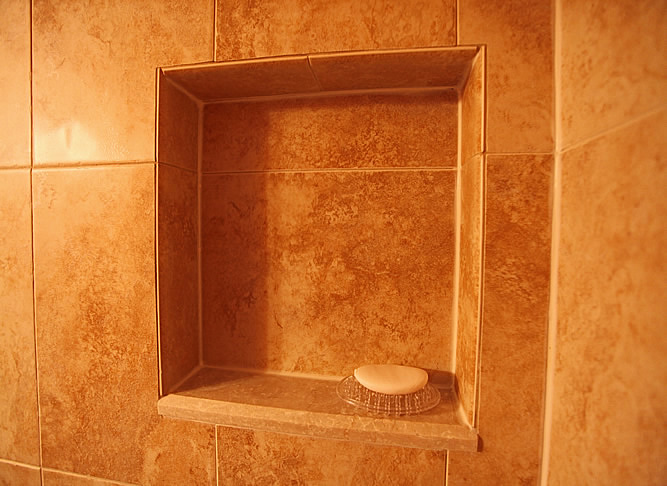 This customer had their contractor do the niche twice, they overlaid their first attempt because customer complained of the many pieces of tile they used to follow their missed layout. This may be difficult to see, but the grout lines below the niche should have run up through.
The natural marble shelf will be ruined with tilex or any acidic liquid. Soap almost always slides out of custom niches so you need to buy one of these spikey things to keep the soap in place.
Customer Installed Shampoo Soap Pictures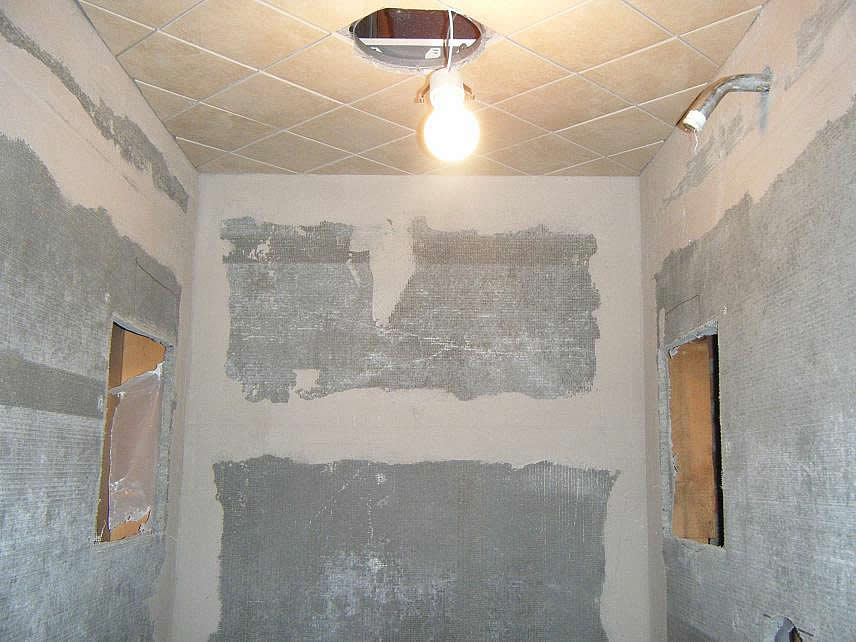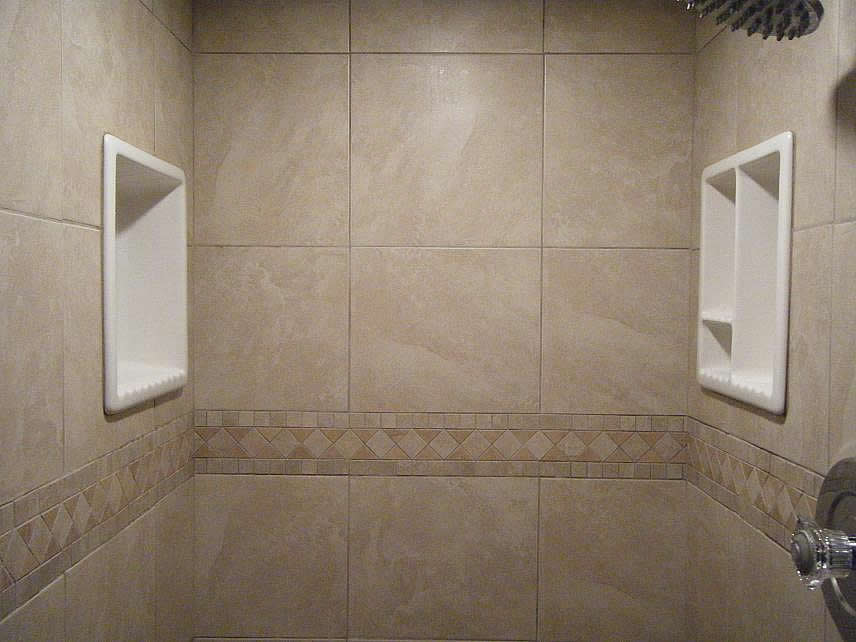 Joe from Ohio writes "Thanks for the quality product! ". Thank you Joe for the pictures of your nicely done shower area, I really like the tiled ceiling!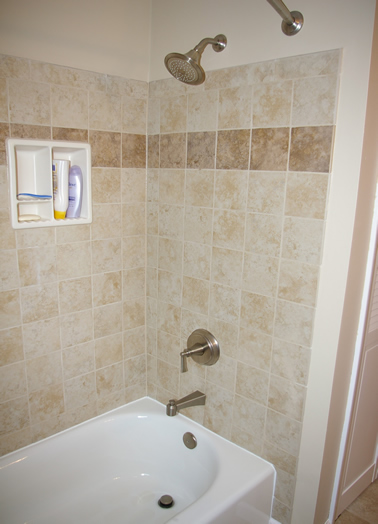 *
Hi Mark,
I ordered a shampoo holder from you a few weeks ago. We installed it according to your instructions and we love it! We are sooo glad we decided to buy this item and take the time to include it in our project. This was our very first experience with tile work and I really appreciate the tips you were kind enough to give me by phone. Anyhow, here are a few pics of the shampoo holder after installation.
Take care,
Matt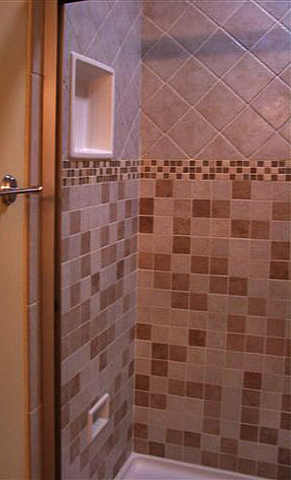 *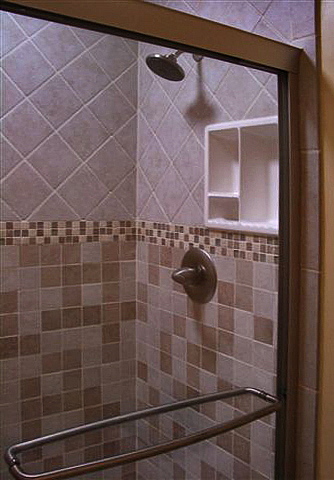 Chris of Pennsylvania writes
"In replacing a fiberglass shower and tub unit with ceramic tile I wanted recessed soap and shampoo holders that would save me the hassle of having to frame, board and grout. These inserts worked perfectly as they simply dropped into the holes I had left for them with a minimal amount of caulk and match perfectly with the shower base. Since they are ceramic and not plastic they look and feel like they were specially made to fit my space."
Nice choice of tiles and design. Foot rest for shaving legs with both combination shelf and shampoo storage niche. Notice 6x6 tile in upper area on diagonal, carries around the corners nicely.