Bathroom Tile Base Molding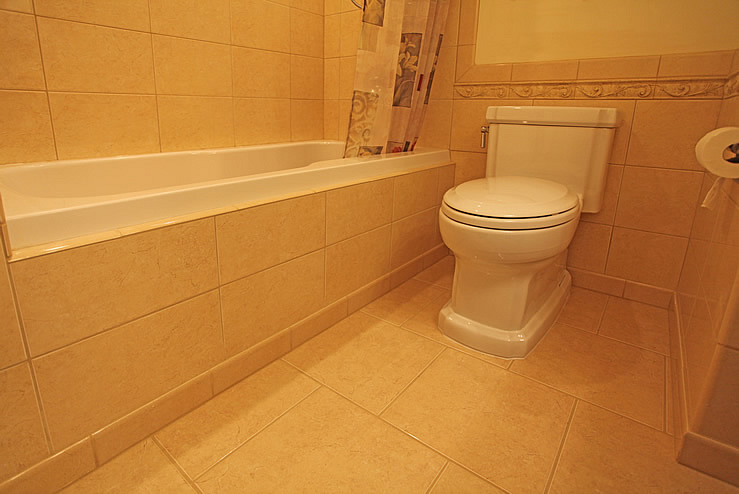 Bull nose ceramic tile used as base molding. Tiled front tub skirt. Floor is 13x13 floor tile and walls are 9x13 wall tile.
___________________________________________________________________________________
___________________________________________________________________________________
Kitchen 2x2 tiled back splash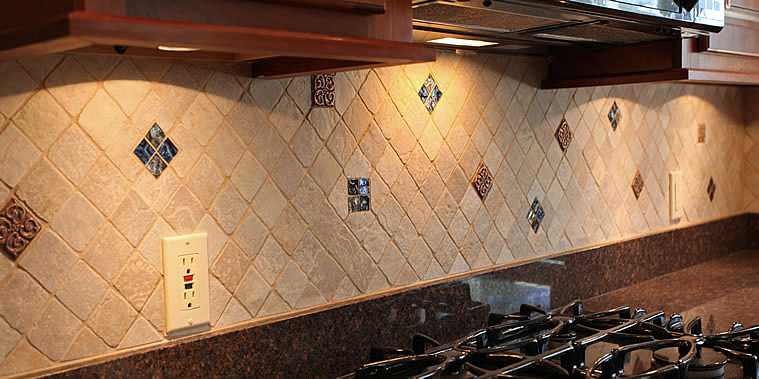 This picture of a kitchen tiled backsplash is done with 2x2 inch Key elements white with Copper deco 2x2 and Venetian Glass Listello accents. Texture is nice on your kitchen back splash. Put your sparkly accents so the under counter lights show them off. " Don't get stuck in a pattern" as the cover plates will mess it up. Try to lose those electrical units, Decora (rectangle outlets) come Black, Dark Brown, Grey (supplier), Almond and white. Accents need to be seen. Dark splashes are covered by black and dark brown, light, almond and white. There needs to be a medium beige at the least, manufacturers listen.
Key Elements tiled kitchen floor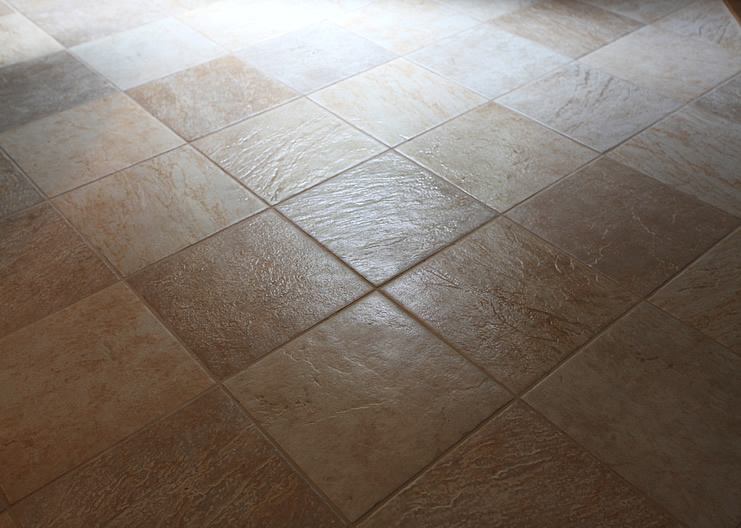 Previous contractor installed tile floor directly on linoleum, only to have grout crack out. This is the floor that goes with the back splash above.
___________________________________________________________________________________
Glass tile backsplash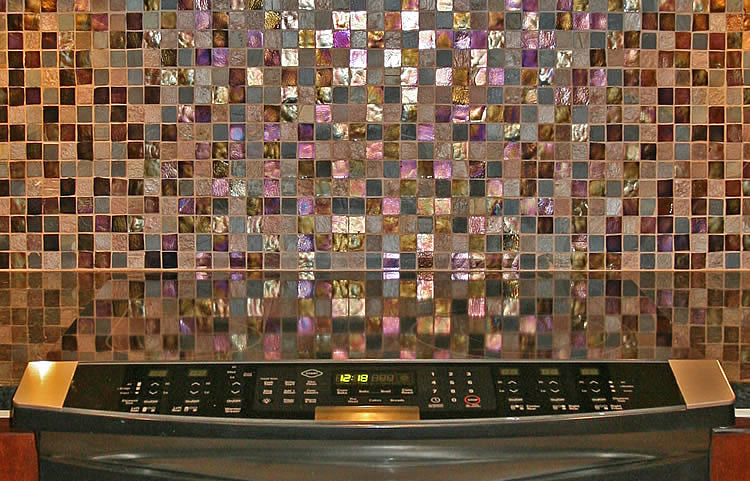 Oceanside glass mosaic tiles on kitchen countertop backsplash, under counter lighting to show off the quality tile work.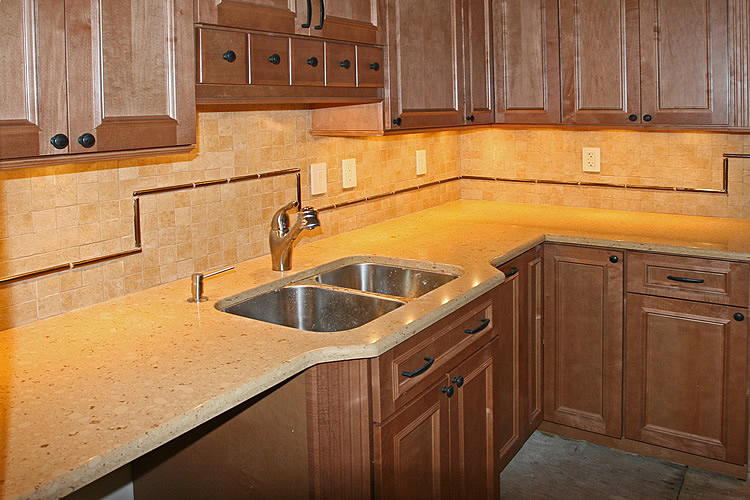 Silestone countertop with 2x2 tiles and glass tile pencil line accent for this remodeling backsplash, lutron outlets and covers.
Slate kitchen floor tiles

Slate kitchen floor tiles 12x12 on the diagonal.
Tile Kitchen Back splash on the diagonal

Daryl and Evan completed this kitchen tile backsplash where the wall is a 45 degree angle. Notice the tile carries around the 45 nicely. My compliments to Daryl and Evan on this excellent tile detail. Matching granite kitchen countertop Uba Tuba inserts. Tiles are 6x6 inches.
Glass kitchen backsplash tiles
Solaris 1" x 1" Linier Harlequin design cracked glass filled tiles used as accent on kitchen backsplash. Nice design Lisa!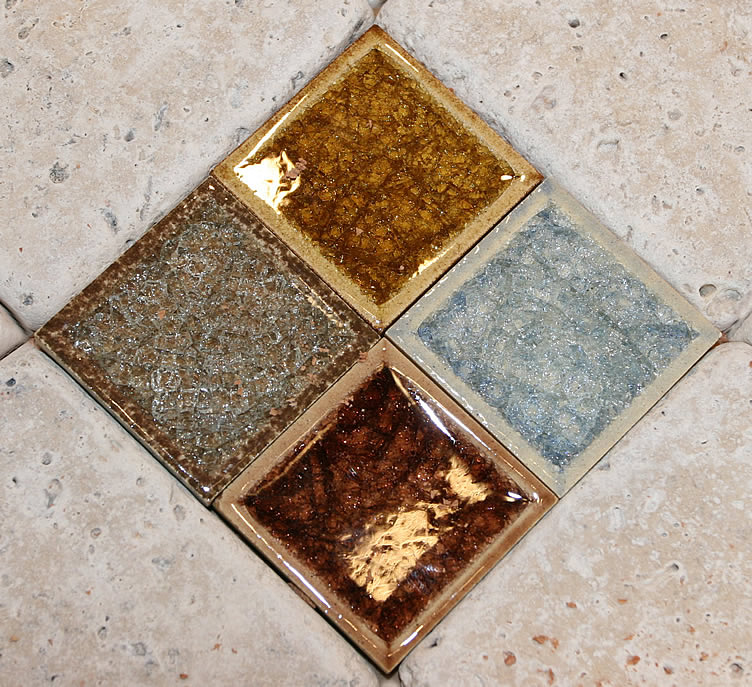 BananAppeal Solaris 2"x2" square cracked glass tile accents placed in tumbled marble 4"x4" tile on this kitchen backsplash.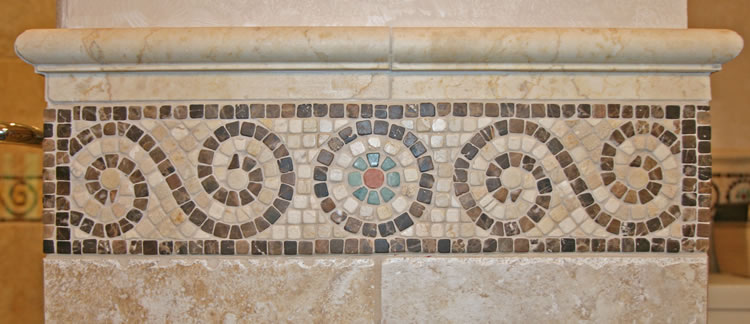 Clifton master bathroom tile remodel Daltile Stone tile accent strip TS57 and chair rail TS54+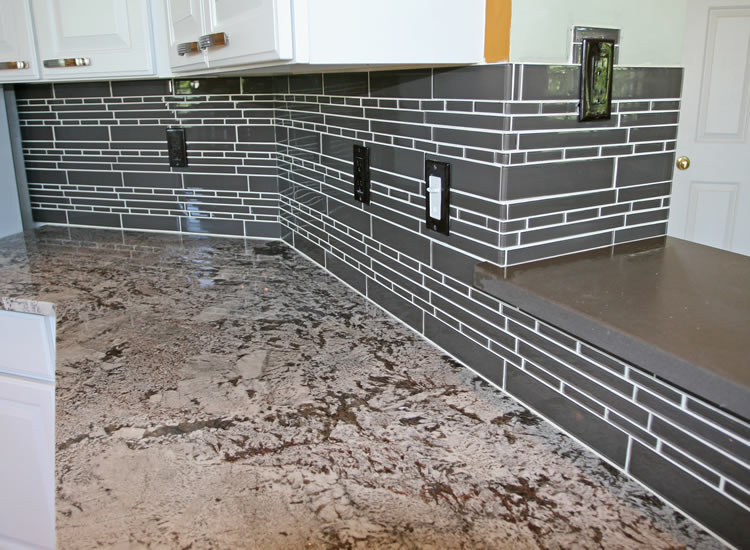 Gainesville Va. Kitchen remodeling, tile backsplash using Solistone Piano Rhythm glass tiles. Granite countertop is Royal Silk color.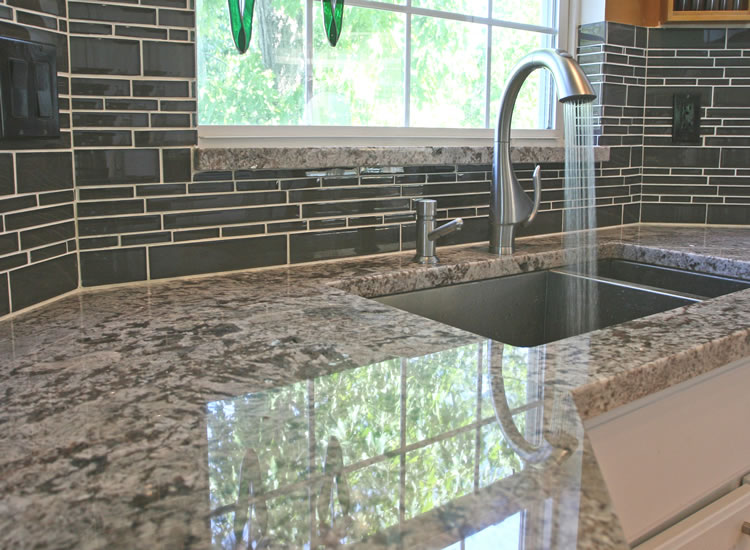 Grohe K4 kitchen sink faucet with soap dispenser, undermount stainless sink. Matching Royal Silk granite window sill.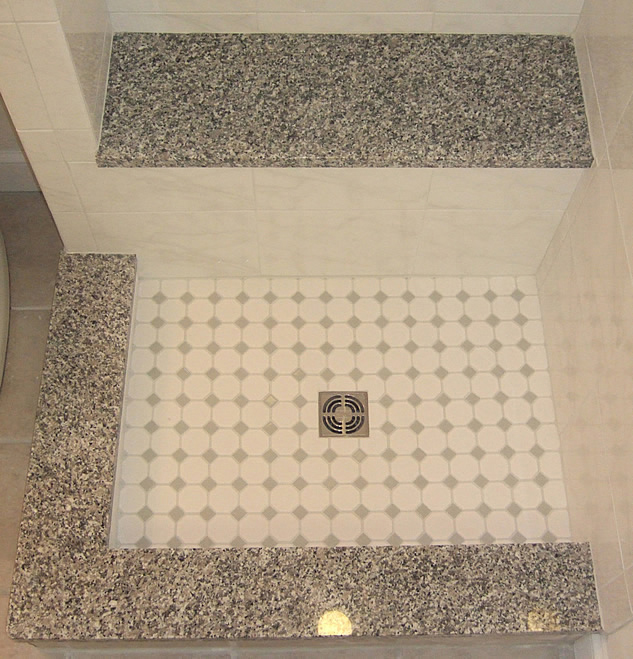 Small bathroom Schluter Kerdi mud set shower base with Luna Pearl Granite sills and seat. Daltile octagon tile with 1" mosaics. Fairfax area.
Bathroom Tile layout, chair rail, accents, borders, bull nose, field tile, mural tiles, floor tile, wall tile," tile design", picture framed, diagonal cuts, ceramic, kitchen tile, back splash, marble, granite, mosaic, "subway tile", small, brick pattern, stack bond, porcelain, shower, tub," glass tile ", remodeling, design, ideas, backsplash, Schluter, Kerdi, hex, Fairfax, Manassas
Fairfax bathroom shower tiled to shoulder height window

Tempered window in shower if privacy allows, sloped tile chair rail window ledge Daltile Village bend.
Bathroom Subway Tile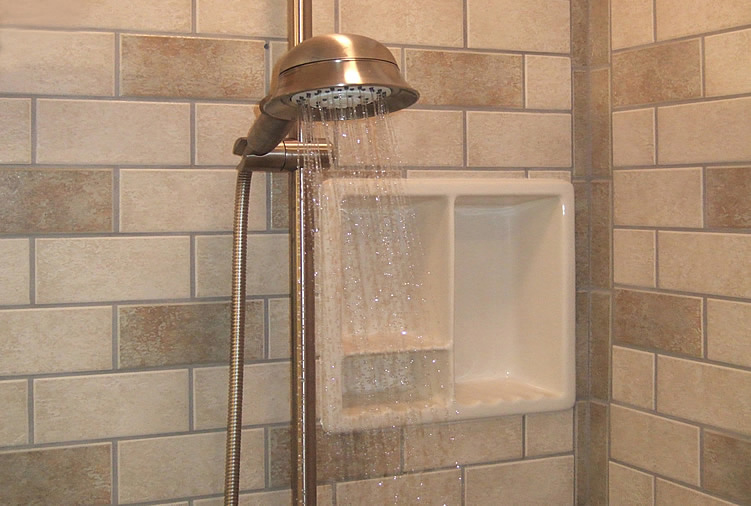 Subway size tile are generally 3" x 6" but vary. A ratio of 1 to 2. Dal tile has several series of this size tile including the "Village Bend" above, "Natural Hues" "Folio One" and "Brancacci". I like a recessed shampoo soap holder because it doesn't stick out. Niche's are expensive to build and tougher to clean. Moen handheld shower head on sliding bar. 1/8" grout line with custom mixed grout. Florida tile has 3x6 such as Tuscania.
__________________________________________________________________________
Kitchen Tiled Back splash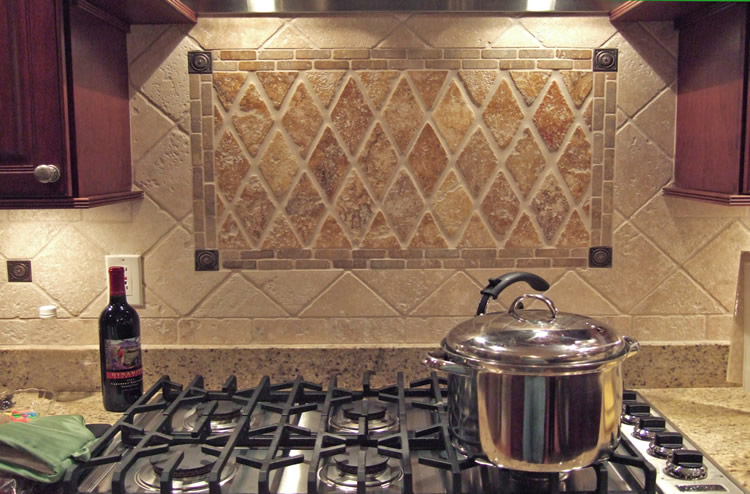 Diamond tile picture framed kitchen backsplash with "metal" tile corners, notice side symmetries. 6 x 6 tumbled marble field tile. Someone did a nice tile job here. Notice tile below cabinets is full tiles and full half diagonal cuts with equal border above and below. The Noce Tumbled Rhomboid Diamond Harlequin tiles are linked here. Colors will vary. Tumbled Travertine marble tiles have lots of holes that end up being filled with the colored grout. I believe in matching the grout to the predominate stone color.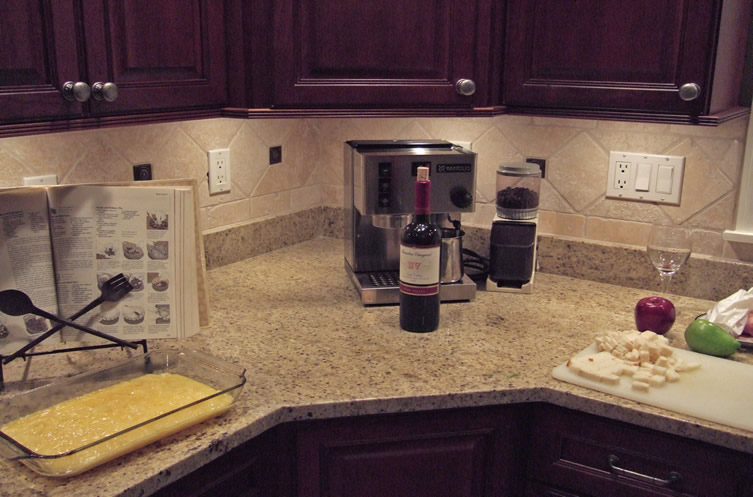 With a kitchen tile backsplash, try to find outlets and covers to match tile color as close as possible. And also grout should match or be slightly darker than tile color to "show off the tile". Always have food and wine on hand when you need a break. Kitchen backsplash accents may look best dead center between the upper cabinets and the counter top. Outlets and switches tend to mess with the look as they are normally not perfectly level. Color match the outlets if possible. If the walls are open, reset the outlets dead level, possibly dead center on the accent strip.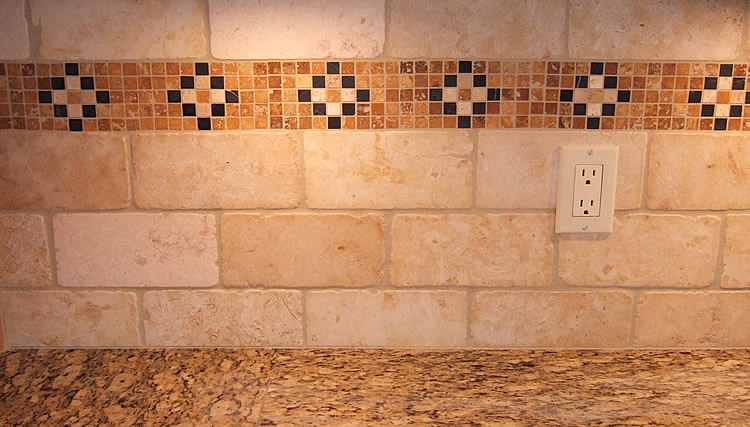 Kitchen counter tile backsplash brick size running bond tumbled marble, with small 1/2 x 1/2 mosaic tile design border.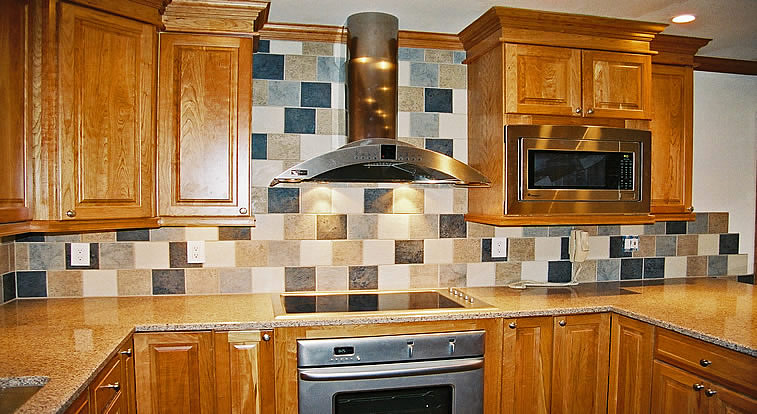 Kitchen backsplash with random colored 6 x 6 tiles. Stair step end on right side. Notice cook top and oven are separate units with the Silestone countertop nose running through, nice detail.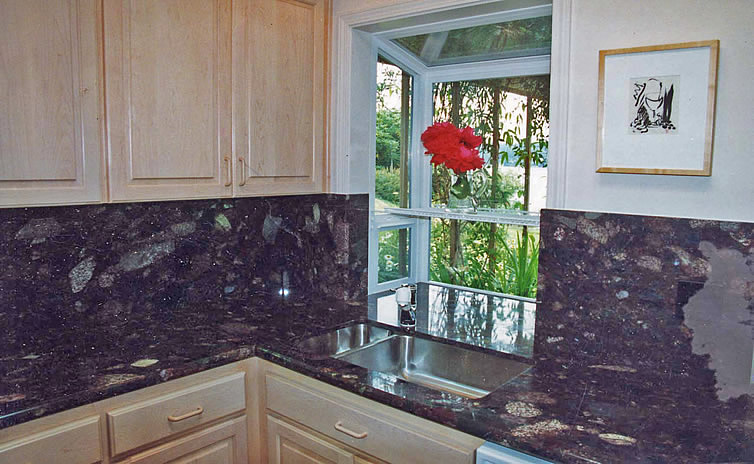 Vesuvius granite counter tops with full height kitchen backsplash. Black outlets. Counter planes into greenhouse window. I like granite counter tops the best of any top. Granite though tends to have a "formal" look especially with the darker solid color granites such as Black Absolute. I personally like the looks of granite with "movement" and character. A full height kitchen backsplash is a continuation of the counter top look where a tiled splash can provide interest and texture. This could be 3/8" cut granite tiles (limited) or a dissimilar tile or stone. When considering full height granite splashes you have to consider how well the base cabinets are attached to the wall. Electrical outlet boxes should come within 1/4" of the front face of the granite. I would also want under counter lighting to show the granite off. Granite thickness may also impact micro hoods and cabinets.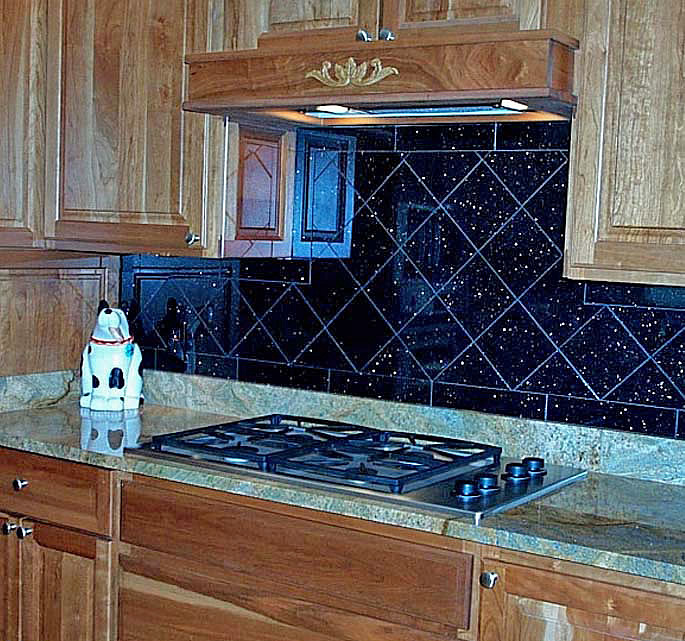 Black Galaxy granite cut to 6x6 full diagonal tiles with a balanced border to fill the space. Black unsanded grout 1/16". Golden Fantasy granite countertops with almost coffee stain character markings.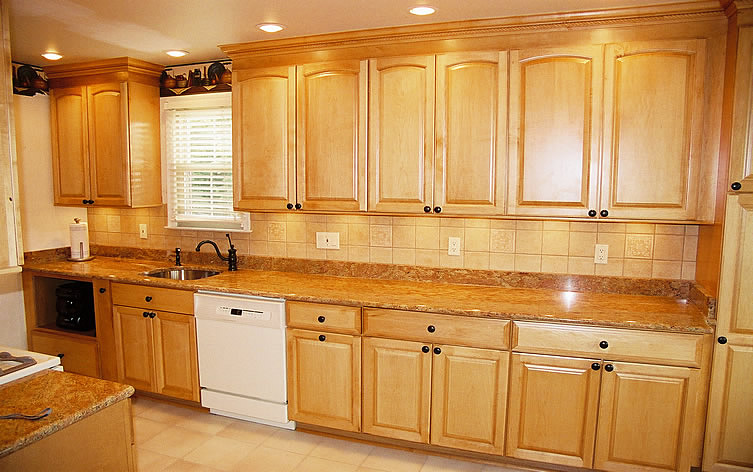 A simple 4x4 inch tiled kitchen backsplash with accent tiles.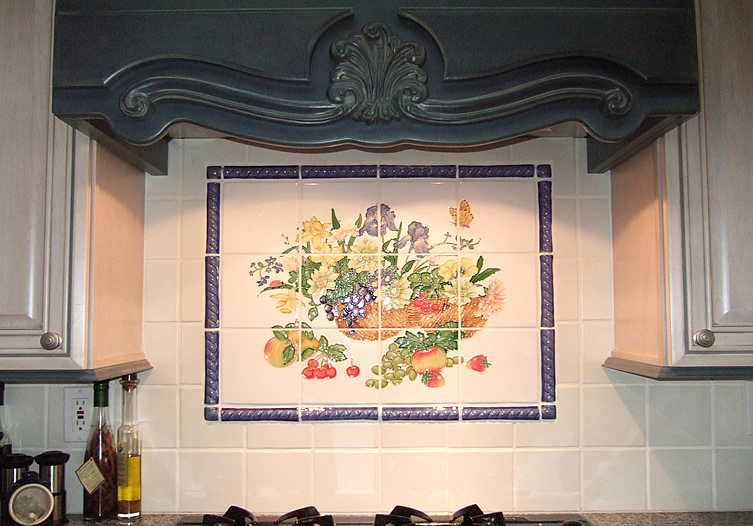 Kitchen tile mural backsplash
_____________________________________________________________________________________
Bathroom wall tile details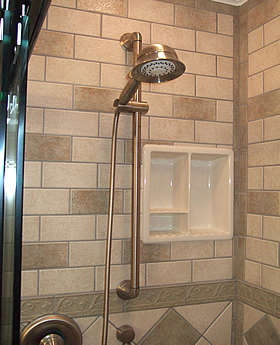 In this shower I set 6x6 Daltile Village Bend series on the diagonal working to full diagonal half's with a border that worked out to be about 2 inches. For interest I set the same series 3x6 subway size tiles above in a brick or running bond. Custom matched grout to darker tile ( mix stock grouts ). Recessed foot hold lower right ( shaving ).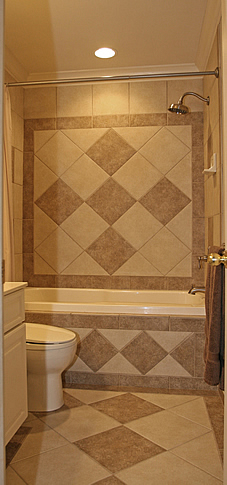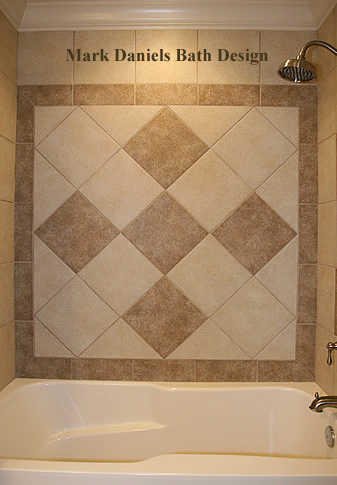 My son Evan Daniels designed this tile layout for his bathroom. Tiled tub skirt with bull nose top edge. Again diagonal 12 x 12 tile with a border. We matched the grout to the darker tile. I can say that this bathroom has a very nice solid feel. It may be attributed to the same large tile being used on the floor as the walls coupled with the tiled tub skirt.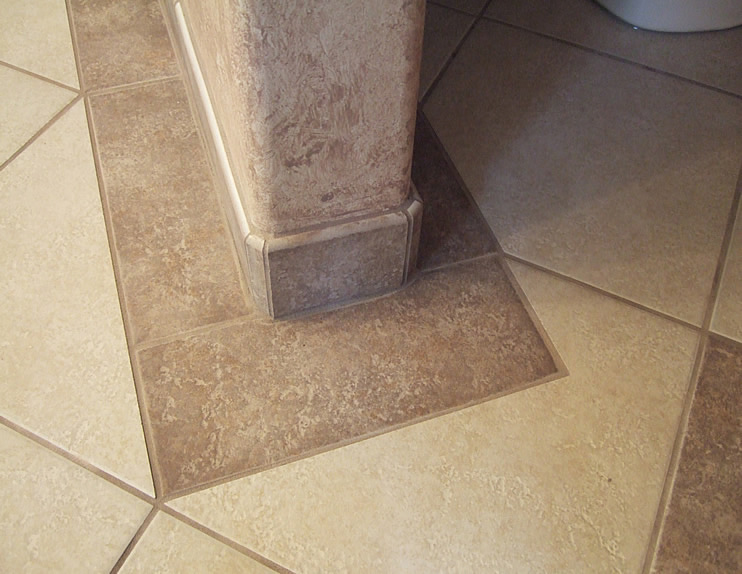 Bull nose tile base wrapped around faux painted bull nose corner bead (soft corners). I matched grout to the darker tiles. The darker tiles at the outside edges of the room create a "picture frame effect", drawing attention and giving " importance" to the tile work in the center of the room.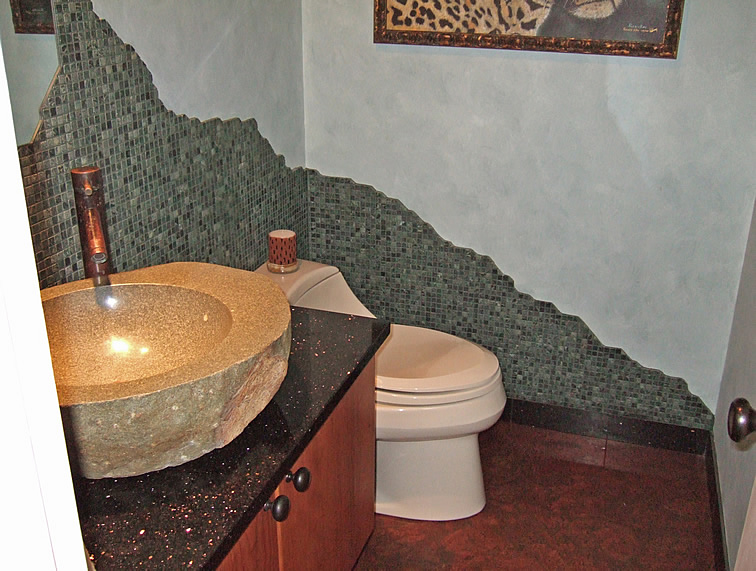 1" green marble tiles topped with broken pieces in a ragged design. Black galaxy vanity on copper legs with green granite carved sink. 6" black galaxy floor base molding above a cork floor. Faux painted walls.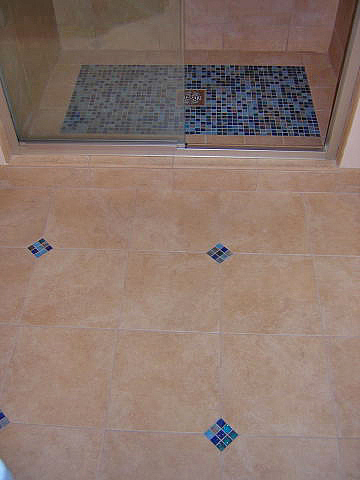 Blue 1" glass mosaic tile accent on mud set pan and above shower tower. Floor has custom cut clipped corners for matching 3x3 blue tile accents. Good lighting in your shower, bathroom or kitchen will show off the beauty of your tile work and also other details.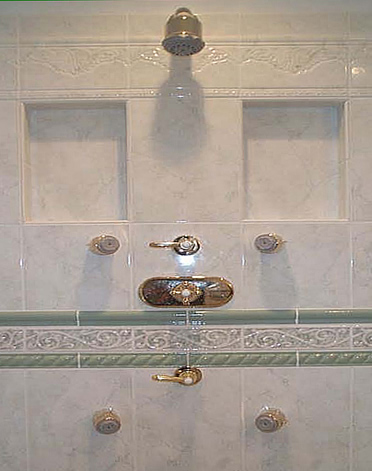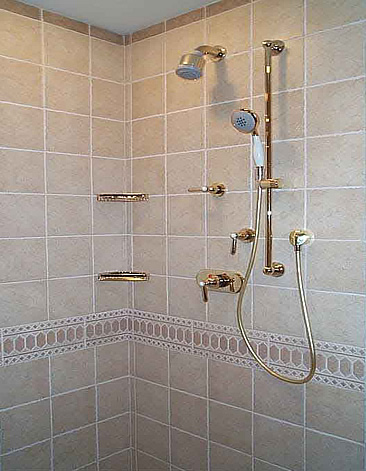 Niche's with body sprays. 6x6 stack bond tiles with waist high accent. I like border at top. Picture frame your tile work.
Tile accent strip locations
In the shower I like the valve at 45" to 48" above the floor with the accent strip centered on the valve. In order to get the tile layout right without small pieces, you need to know the tile layout when you set the valve or get lucky. I don't feel right with accent strips at neck or head height. Lately I like picture frame designs for higher end tile work instead of accent strips.

In a tub only situation, you might have 12" or so of tile wrapping the top. The accent should sit centered or above, toward the bull nose or chair rail top.
On bathroom walls the accent should be near the top of a wainscoting tile job. With a wainscoting tile job, I like the top of the bull nose or chair rail to meet the top of the vanity back splash or be well above it in the case of a 48" high wainscoting.
Layout
As the layout of the tile can make or break the job. Worst case scenario, small diagonal pieces growing larger on a crooked wall. Avoid small pieces or slivers being left in your tile work.
Tile Material Costs
Depending on the size of the room and whether you are going to the ceiling with your tile. A small bathroom tile remodel involves anywhere from 110-150 sq ft of tile with bull nose tiles and accents. The bull nose and accents or special tiles are more expensive than the field tiles. Per square foot for in expensive tile starts at about $3 for field and goes up from there. This translates into $400 for a basic tile with bull nose. Normally a small bathroom with nice tile and accents will run about $800 or so. In a designer tiled bathroom, you could be looking at $15 a sq ft for tile or $1500+. A $700 increase in the tile costs is a 7% increase in price on a $10k bathroom, but could really make the job. Check this glass tile web page, $30+ a sq ft, very nice, they also make 5x10 and 10x10 sized tiles besides mosaics. Bull nose, accents and decorative tiles are the expensive items in your tile selection for a bathroom remodel.
Bathroom and Kitchen Tile Links
Daltile
Florida Tile
:: American Olean ::
____________________________________________________________________________________